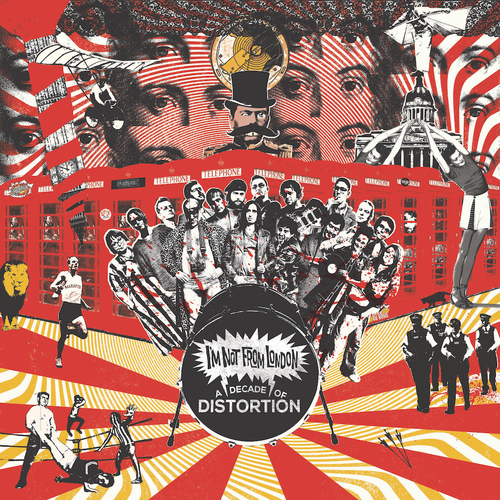 A Decade Of Distortion
Available Formats
Tracks
Price
Buy
12" Vinyl Double Album
23 tracks

£

25.00
Description
Various Artists - A Decade Of Distortion
I'm Not From London Records are set to release a limited edition double vinyl compilation celebrating over a decade of music and mayhem.

"A Decade of Distortion" includes 23 of INFL's favourite artists; just a small selection of the vast pool of talent this thriving DIY operation have supported and collaborated with throughout their journey and development as a promoter, record label and music publisher.

The compilation is available on heavyweight 12" 180gm vinyl, with music split between the two records (heavy rock - black) and (pop, electronic & acoustic - red). A Decade Of Distortion features an array of outstanding artists including Heck, Kagoule, Bru-C and Francobollo with a tracklisting curated to celebrate the diverse music programmed throughout the history of INFL.

Tracklisting
12" Vinyl Double Album (INFL024)
Punish The Atom

- Negative

Hot Japanese Girl

- Not Green

Heck

- Dave Lankester

Kagoule

- Adjust The Way

Arrows of Love

- The Knife
HCBP

- $hit dollar $huffle
Pilgrim Fathers
- Gold
The Smears
- Wrath
Widows
- Green Tsunami
Francobollo

- Give Me Your Money
The Most Ugly Child
- Lover O Mine
City Shanty Band
- Howlin' Wind
Captain Dangerous
- Forgive Us We're British
Tray Electric
- Come Around
Bru-C
- Follow Me
I Am Lono
- Leland
Lowrie
- Another Trip Around The Sun