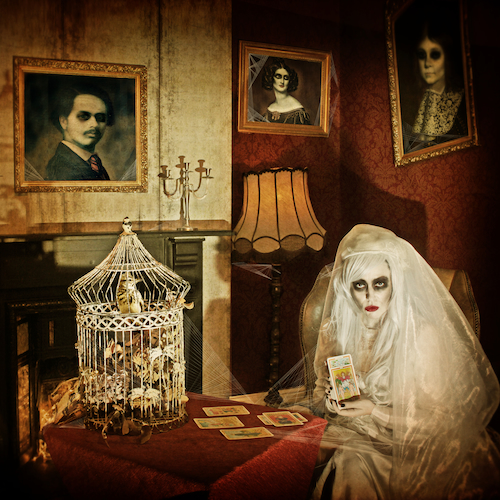 Queen Of Insecurity
Available Formats
Tracks
Price
Buy
CD Album
10 tracks

£

5.00
Description
Witch Of The East - Queen Of Insecurity
Introducing, Aeris Houlihan's solo project Witch of the East (ex Chambers). Michael McManus (Drums). After Aeris left Chambers late 2018 she decided to write a solo album.

The album titled (Queen of Insecurity) draws on the orgasmic din of Witchy, Grunge horror. A beautifully dark concept album that touches on industrial rock, grunge and dark pop.
The combination is sure to terrify people.

"Witch of the East has no limits, no compromises. It's an honest interpretation of your surroundings. A harsh but beautiful world! Being free to say what you really mean! No matter who is listening."

Queen of Insecurity was recorded at Greenmount Studios in Leeds, UK. Partly produced by Aeris Houlihan, Lee Smith, Jamie Lockhart. Lee & Jamie have also produced Pulled Apart By Horses, The Cribs, Ellie Goulding to name a few.

Other musicians on the album include Medina Rekic (ex White Miles), Lee Smith (ex Middleman) and Morgan Pettigrew (Minatore).


Reviews
"Aeris Houlihan created the best ear-movie valentine anyone has ever made for you, exploring light, dark, tension and release. That she wrote, played and produced it all proves that time again, the female is always the deadliest of the species." - Jason Pettigrew/ Alternate Press
"Meet the Queen of grungy aural occultism"
- Amelia Vandergast - Corvid Culture
"Queen Of Insecurity is the ominously atmospheric album from Witch of the East. Led by Aeris Houlton, their debut LP takes an unflinching look at the sinister side of life via nasty blues riffs and the hardest edge of glam rock. From the savage assaults of Corridors and Chest Vomit, to the air of menace created by When You Fuck Me and Hexenhaus, it's a gloriously bleak first record from these rising dark stars." Jimi Arundel - Leftlion Magazine
Tracklisting
CD Album (INFL032CD)
Witch Of The East

- Pandora's Box

Witch Of The East

- First Degree Murder (Suicide)

Witch Of The East

- When You Fuck Me

Witch Of The East

- Chest Vomit

Witch Of The East

- My Mother Taught Me Well

Witch Of The East

- Fairy Tale Ending

Witch Of The East

- Queen Of Insecurity

Witch Of The East

- Corridors

Witch Of The East

- Hexenhaus

Witch Of The East

- Bye Bye