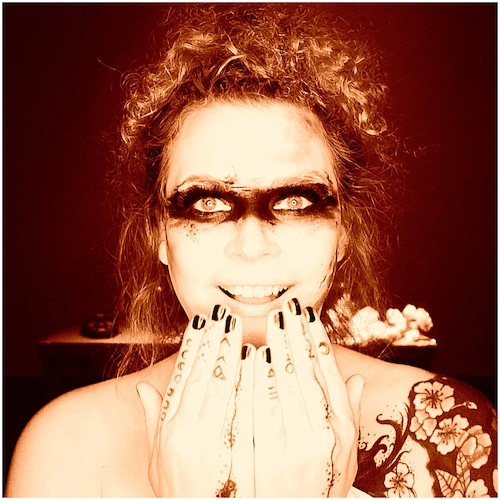 Savage Beauty
Available Formats
Tracks
Price
Buy
CD Album
10 tracks

£

7.00
Description
Witch Of The East - Savage Beauty
The Visceral and sublime Witch Of The East; whose songs of cinematic, Genre-Twisting po- tency - governed by songstress writer Aeris Houlihan, are nothing short of pushing bound- aries within popular guitar music of the early 90's and giving it a well needed '2021 punch in the gut!' Hitting you deep inside your core. An elevated, dystopian, apocalyptic angst runs through their bones and delivers a harsh dose of reality through the dreaminess of their aura. Aeris, Zera Tønin and Manny are an inspired collective of creativity, bringing you their brand
new record 'Savage Beauty'

'Savage Beauty' updates Industrial, Experimental Melodic Pop to a new plateau. Trans-Activist and lead singer Aeris Houlihan's vocal delivery cuts through with a gritty malaise reminiscent of a late 80's Grace Jones- stoic and brave, combined with co-writer and performance artists Zera Tønin and the angular drumming style of Manny;
The sonic heroism that Witch Of The East conjure on 'Savage Beauty' is no accident.

Tracklisting
CD Album (INFL041CD)
Witch Of The East

- Ritual

Witch Of The East

- Red, Yellow and Black

Witch Of The East

- Comfort Me

Witch Of The East

- Fool's Paradise

Witch Of The East

- Through A Thousand Doors

Witch Of The East

- Little Red

Witch Of The East

- Something's Wrong

Witch Of The East

- Martini Glasses

Witch Of The East

- Just Enough

Witch Of The East

- In The Dark